Oil is still one of the biggest building blocks of life. Regardless of whether you now work from home instead of driving to work every day in the gas-guzzler or not. It's used in everything – fuels, plastics and pharmaceuticals, to name a few. In fact, if you now work from home, chances are you're turning up the winter thermostats a bit more often than you would at work. You're probably also buying a lot more food from the supermarket, most of it encased in plastic packaging. Even if your heating system is not oil-based, oil remains one of the main fuels available for generation of electricity, and could well do so for many, many years, regardless of how many windmills they build.
So, the good news. You'll be pleased to hear is that oil is at an all-time low, when measured against gold. Luckily enough, since with your earnings being one-sixth of the 1970 value, you may not be able to afford to keep the house warm or drive a car otherwise. Any apparent price rises you see at the pumps are merely an inflation of your fiat currency.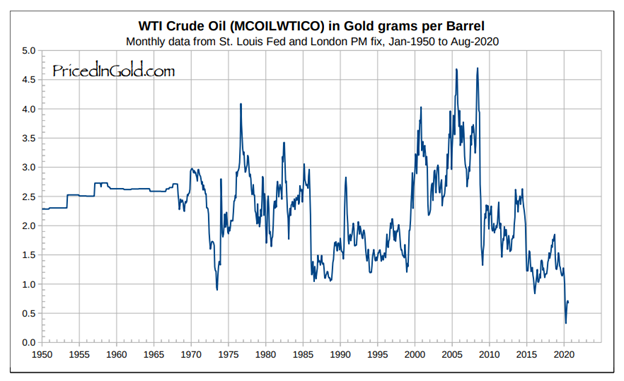 Now for the bad news, can it continue?
Maybe not. For many years, gold and Oil actually maintained a near 10:1 ratio relationship.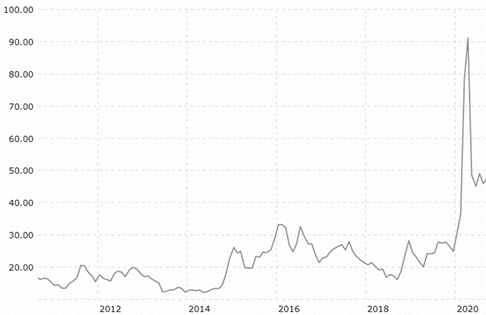 (Chart: Gold/Oil ratio 2010 to 2020)
As the chart shows, this relationship has become distended as a result of the Corona crisis. There's now a near 50:1 relationship as of August 2020. This may imply oil is actually quite cheap, gold is expensive, or that the ratio no longer holds. There has been a multitude of media articles heralding the death of oil. However, it seems to have missed the attention of many that all of this data – everyone's Facebook posts, Instagram images, or cloud software solution is stored on a server somewhere that requires electrical power to run. For sure, in the case of one Instagram post, that electrical consumption is miniscule, but multiply it across a world of 7 billion people, and you get an idea now of the immense electrical power required. Oil, natural gas, and coal are still heavily used in electrical power generation across the globe.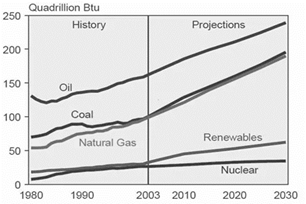 (Chart: Actual and predicted power sources to 2030)
The eagle-eyed among you may have spotted the chart dates from 2003. This was deliberate since more recent data shows it to be correct. If so, the future trend for oil consumption is still upward.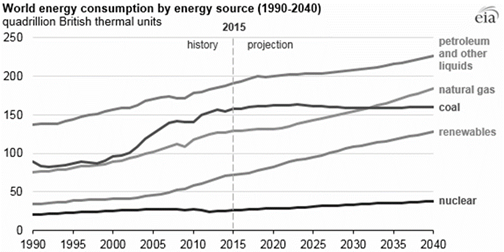 (Chart: Energy consumption to 2040)
So, and this is only a question, not investment advice, maybe oil itself is not finished yet as an investment. If not, could it revert back to the 10:1 ratio with gold and if so, at what price for both?